On July 12th we welcomed an audience into our offices in Canary Wharf to hear from a panel of experts about how they built high performing teams. Hosted by our Founding Director, James Mitra, the panel of Fred Jones from Uber, Chris Severson from Digicel Group and Kim Nilsson from Pivigo shared their talent strategies, and gave away some brilliant actionable advice.
Our panel was asked:
1. How do you attract talent if you are in a startup phase?
We asked the room to tell us through a live poll and the importance of culture and talent within the recruiting organisation topped the poll.  People have to feel like it's a good place to work, and want the opportunity to work with good people.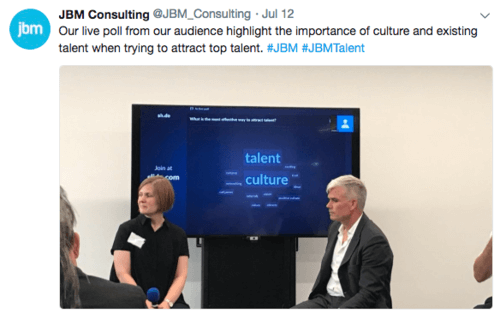 We appreciated the "Call James" response!
Fred Jones shared that Uber attracts talent by promoting it's clear and ambitious mission to reduce private car ownership and congestion in cities. This attracts people who want to be part of solving this problem.
Kim Nilsson shared that if you don't have a brand yet you have to pitch the vision very very hard. Pivigo taps into networks of people who want to work in a startup as they are attracted to the excitement and being part of building something. To get the top talent in these networks the culture you offer them plays a huge role in why they pick your startup.
Chris Severson from Digicel Group reflected that they are in a transformation period within the organisation so they are recruiting the right people for the next phase of business. Therefore he is pitching the vision of where they are headed, not selling where they have been. A big part of being successful is conviction in the interview about the vision and finding the risk-taking personalities who want to embrace the challenges of moving countries for example.
2. How do you assess the talent to make sure you are recruiting the right people?
Kim Nilsson shared a lesson learnt about recruiting too fast. Following a competitor struggling, her industry swooped in on the talent that were out of jobs and available. In that atmosphere it is all too easy to recruit too fast, and the person they brought into the organisation actually only lasted 2 days.
Chris Severson backed up this point with the words "Hire slow, Fire fast."

Words that really resonate with him, and that he uses to manage people. "No people issue gets better with age."
It was also interesting to hear that in the Caribbean Digicel don't use psychometric testing and in the Pacific they do, but the data shows no real difference between the two approaches.
In terms of the assessment, Fred Jones shared that Uber ask their candidates to deliver a presentation during the process as do Pivigo. Fred made the point that this had 2-way benefits. It not only set the bar high in terms of making sure the candidate was heavily invested in the position and really wanted it, but also meant that the candidate that was successful was then much more job ready on day one.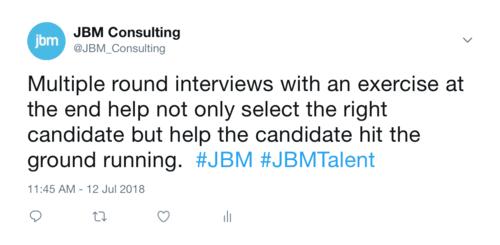 3. How do you motivate and retain high performers?
Culture was the common thread that ran through the responses from our panelists to this question.
Kim Nilsson shared that having a clear career path really helps to retain data scientists. For example Royal Mail which has interesting problems to solve but can't compete with the glamour and pay from Facebook and Google. So they are very clear about the career path and related benefits as long as employees achieve decent performance reviews. They also provide a great academic and entrepreneurial culture which is also key in retaining people.
Chris re-emphasised that culture matters far more than people think, and changing culture is ferociously difficult. He shared that understanding the culture of the people you employ matters and has found it's the small things like free data, holiday gifts and nice offices that are key to retaining people.
Fred shared that as Uber has grown so fast in the past 3 years, clear career paths weren't established as the operating model has been constantly evolving. So Uber approach it by thinking what experiences can we offer our people? Being an interesting place to work, that offers experiences and autonomy is really attractive to employees, and is proving key to retainment even if employees are able to get a bit more cash elsewhere.
4. How do you approach diversity to ensure you have a wide pool of talent from all backgrounds?
We asked our audience how confident they were that they have achieved the right level of diversity in their team and this was the result: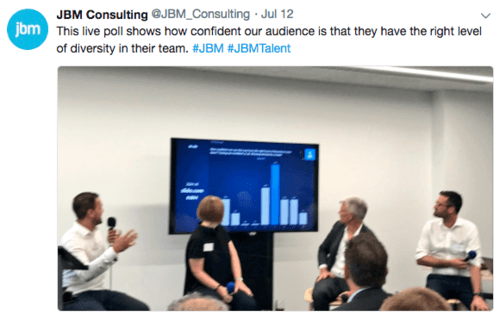 The panel agreed that diversity is essential for innovation, as you need diversity of thought and people willing to engage in many different types of conversations and ideas for your business to achieve its potential.
Kim shared that Piviago really credit diversity of background and like recruiting people who have made a career change as it shows commitment and passion.  Every piece of marketing material must reflect the organisation and the group we want to attract and feature for example both genders. This then becomes self-fulfilling as it snowballs and an organisation with some diversity attracts further diversity.
Fred shared that to achieve this you need to keep stretching towards diversity and not be complacent that it has been achieved as turnover of staff means this is something that needs to stay on the radar of your organisation. Fred also shared the Interesting idea of having a bar raiser present in Uber interviews who is not connected to the company to combat unconscious bias.
5. Does your talent requirements change as your business matures?
At the beginning of Uber's journey they needed generalists who can turn their hand to anything, but as the organisation grew they needed specialists. The idea of role inflation was shared by Fred and Uber's ideal candidate is someone who can grow at the same rate that the business grows.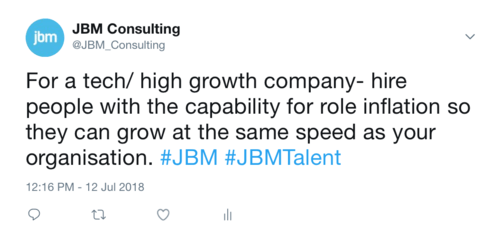 Kim shared that as a start up you need to show that you can supply support for more junior members of staff and provide job growth and security as you don't just want an organisation of mavericks – you want people who are interested in steady growth. Whereas as you become more corporate you need to show the opposite that you are innovative and can still attract the mavericks.
Chris asked the question – are the people who help get a startup off the ground the same people who can bring in steady growth? Very few people want to be at either ends of the journey, and this needs to be acknowledged as the company grows and roles become more specific and have less autonomy.
6. And finally, what did our panelists wish they had known when they were building their high performing teams.
Make difficult calls quickly and move on. It only gets harder with time.
Focus on personality and motivation as that isn't something you can teach.
Hire slow, Fire fast.
And a bonus – create good relationships with good recruiters!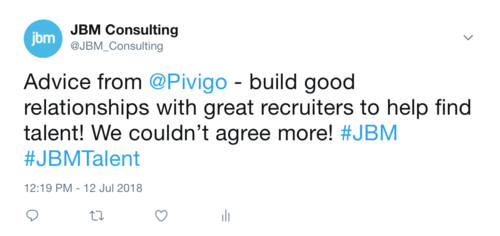 You can listen to the panel discussion in its entirety here: https://simplecast.com/podcasts/6677/episodes/